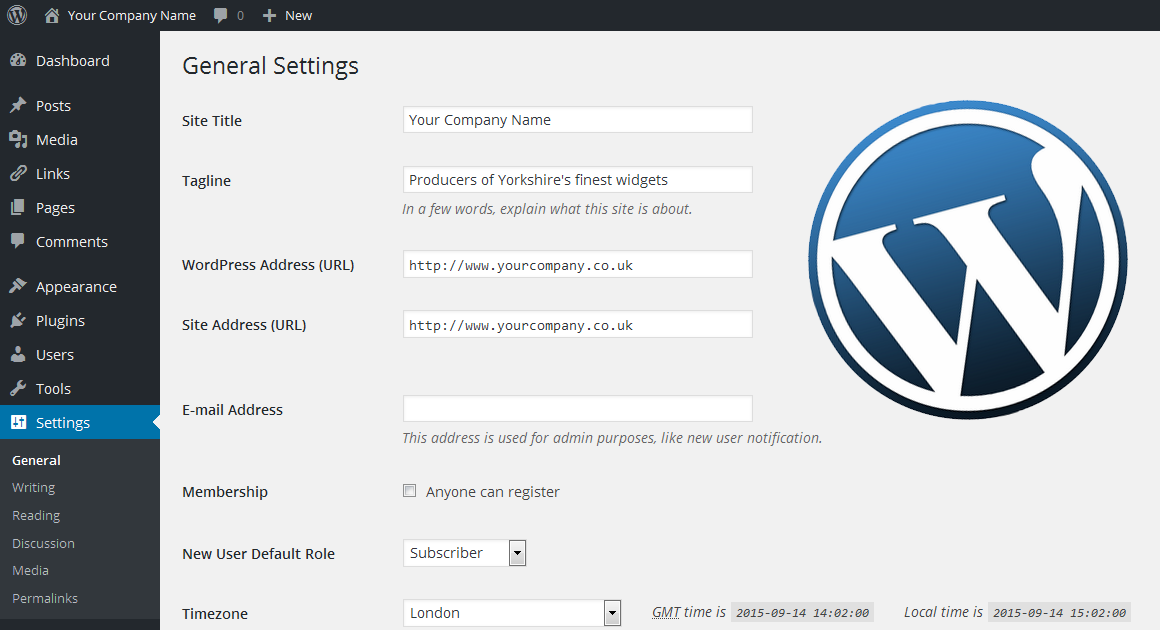 You have your brand new website with a fresh WordPress installation, and now before you begin installing a theme or adding your website content, you have the task of setting it up in order that your website will function correctly.
We will assume, here, that you have already installed WordPress. If not, we won't cover installation here as there are comprehensive installation instructions over at the official WordPress site.
Maybe you have installed WordPress via your web hosting company's control panel? Or, you may have installed WordPress manually yourself by creating the relevant database and tables, and then uploading the WordPress files to your website?
Whichever way you have installed WordPress, there are a few steps you should take to begin setting up your WordPress website correctly. We will cover some of the general WordPress settings as well as what we believe are the six often overlooked settings which should be addressed as an absolute minimum.
General Settings
From the admin menu in your WordPress dashboard, go to Settings >> General
Site Title: make sure this is the name of your company or website
Tagline: This will usually be pre-filled with "Just another WordPress website". This should be changed to something more suitable for your business. We have seen company websites where this has been left with the default text mentioned above, and the theme they are using outputs this as the meta description in the html head of the website on every page, and above the intended meta description of each page across the whole of their website! If your theme does this, make sure you enter an empty tagline or better still, get a different theme.
WordPress Address (URL), Site Address (URL), E-mail Address: these should already be correct if you have installed WordPress correctly. Simply make sure they are correct and leave as is if they are correct.
Membership: If you are building a standard website with no blog or other subscription/membership functionality, this should be unchecked.
New User Default Role: We would recommend leaving this set to "Subscriber", as you can always define a higher level of access in each individual user should you need to. If there will only be yourself or only your login used to administer the website, definitely leave this as "Subscriber".
Timezone: This is important to set correctly as your web host may be located in a different country to yourself, and the server time will most likely be set to that timezone. So for example, if you and your website is UK based, make sure the timezone is set to London.
Date Format: You can customise this to display the date in your preferred format, for example if you are UK based you may not want the date to be displayed in the U.S. format where month/day/year is in use. This is especially important if you have anywhere on your website where the date is to be displayed to your website visitors and your main target audience expects the date to be instantly recognisable.
If you choose a custom format the letters which correspond to the various parts of the date format are:
Day
j – the day of the month e.g. 1 to 31
d – the day of the month with a leading zero, if less than 10 e.g. 01 to 31
S – add this after "j" if you want to use 1st, 2nd, 3rd, 4th etc
F – the month e.g. September
Month
M – short form for the month e.g. Sep
n – numerical month e.g. 9
m – numerical month with zero e.g. 09
Year
Y – full year e.g. 2015
y – short form of the year e.g. 15
So, for example:
3rd October 2015 would be jS F Y
03 Oct 15 would be d M y
03-10-2015 would be d-m-Y
Time Format: You may wish to use either the 12 or the 24 hour clock.
Similar to the letters for the date format, if you choose custom format:
g – the hour in the 12 hour clock e.g. 2
H – the hour in the 24 hour clock e.g. 14
i – minutes past the hour
a – will display am or pm in lowercase
A – will display AM or PM in uppercase
So, for example:
2:15pm would be g:ia
14:15 would be H:i
1415 would be Hi
Week Starts On: Self-explanatory really, choose which day you use for the start of the week.
Site Language: This is quite an important setting which is often overlooked. If you have used your web host control panel to automatically install WordPress is it more than likely that this will be set to be American English – English (United States).
If you are a British company and your website is British you should change this to English (UK). This is important as it will output lang="en-GB" in the html head of your website, and will correctly let the search engines know that your website content is written in British English and is aimed at a UK audience.
Reading Settings
From your WordPress dashboard, Settings >> Reading
Front page displays: If your website is not a blog, make sure that you set the front page to display a static page and not your latest posts. If you haven't yet started creating a home page for your website, make sure that once you have, you come back to the front page settings and select the relevant page to display as the front page.
If you have a blog, you can set the home page of your website to display your latest blog posts, or alternatively you can have a standard page as your front page and a separate page which you may have named something like 'blog' or 'news' to display your latest blog posts.
Blog pages show at most, Syndication feeds show the most recent: This is set at 10 by default. If you wish to show more than 10 posts per page, or in your rss feeds, simply select how many here.
For each article in a feed, show: Here you have the option of displaying either the full text or a summary. We would advise that you select "Summary" to encourage your subscribers to visit your website to read your article in full.
Search Engine Visibility: Once you are ready for your website to go live, you need to make sure that the box next to 'Discourage search engines from indexing this site' is unchecked. We have had enquiries from people asking us why their website is not appearing in Google, and upon checking their WordPress settings, this box was checked. This is important to make sure that you do not inadvertently prevent the search engines from indexing your website.
Discussion Settings
Settings >> Discussion
Default article settings: The setting for "Allow people to post comments on new articles" is often overlooked. If you have a standard website only, without a blog or where you have many more pages than posts, you may want to make sure that this box is unchecked. The reason we say this is because we have seen company websites where the pages all have the comment forms enabled, even though the website does not have a blog and is informational only. Some third-party WordPress themes remove the option to disable comments on a per page basis and if yours does this, it makes sense to make sure the box is unchecked before you start creating pages as once a page has been created with such a theme, you often cannot remove the comments form without going directly into the database tables.
Media Settings
Settings >> Media
Image sizes
: By experimenting with different thumbnail, medium and large image sizes for your uploaded images, you can alter the look and feel of your on-page content quite dramatically. There is no one-size-fits-all when it comes to your images, only careful planning and/or trial and error will enable you to get your image sizes just right. Much depends on the combination of your theme and the content you create. If you have had a WordPress theme designed by a reputable web or theme designer, they should set up the image sizes correctly to go with the theme, or at the very least recommend which sizes to use. Should you decide that you need to change the image sizes of all your previously uploaded images, we recommend the
Regenerate Thumbnails
plugin which gives you the ability to resize all your images in one go.
Uploading Files: If your website is quite modest in size and does not require hundreds or thousands of images, you may consider unchecking the "Organise my uploads into month-and year-based folders". Be careful however, if you have purchased a theme which comes with the ability to import demo content (and you wish to import the demo content for inspiration or editing), as in the vast majority of these themes, they will have the images set to upload into month-and-year based folders.
Permalink Settings
Settings >> Permalinks
Common Settings: By default this will be set to http://www.mywebsite.co.uk/?p=123 however we would very much recommend that you change this to "Post name" so that the URLs of your website pages look more appealing both to human readers and the search engines. Using "Post name" instead of the default will give your pages much more appropriate URLs such as http://www.mywebsite.co.uk/sample-post/. Unless you have a blog containing mostly date-sensitive posts or news, then we recommend that you do not use the date in your page URLs at all. We reason thus; your page appears in Google search results, but the person who is searching sees your website URLs with the year and month of a page created 5 years previously. This could put people off clicking on your listing as they may wrongly assume that your website is out-of-date. Leave the date out of the permalink and they only see the words relating to what they are searching for in the URL.
If you have a blog in addition to standard informational web pages, you may consider a custom permalink structure such as /blog/%postname%/ or /news/%postname%/ as this will give all your blog posts the word 'blog' or 'news' in the permalink URL whilst leaving your normal pages unaffected, yet still having a visually appealing '/sample-page/' URL structure.