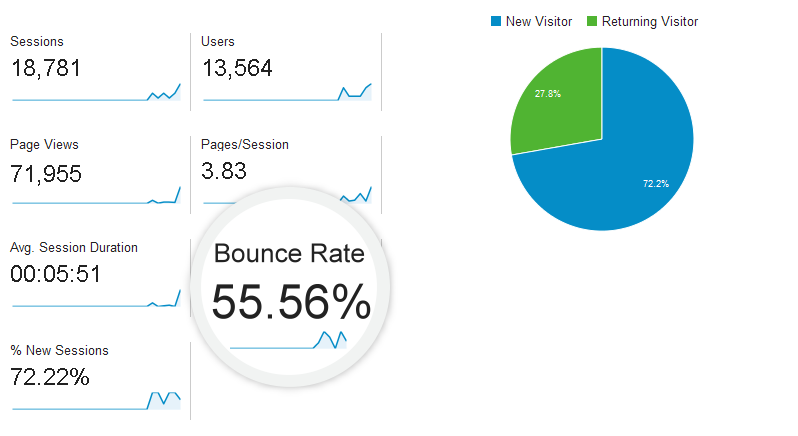 Some months ago we began to notice a high bounce rate on our website and some of our clients' sites that we also manage. Like many companies, organisations and individuals, we use Google Analytics to gain insights into how well our websites are performing on the web.
What was contributing to the high bounce rate?
We were seeing thousands of referrals from spammy domains such as:
http://semalt.semalt.com/crawler.php?u=http://domainname (where domainname is the domain of either our site or our client website)
http://success-seo.com/try.php?u=http://domainname
http://buttons-for-website.com
http://rankings-analytics.com/try.php?u=http://domainname
http://video–production.com
http://overx50.com
http://pizza-imperia.com
http://www.binary-deluxe.com
http://burger-imperia.com
http://www.urlopener.com
http://netcomber.com
http://getdownload.ws
http://downloaflare.biz
http://hundejo.com
http://hvd-store.com
This is by no means an exhaustive list of the offending domains, but the majority were from semalt.com and success-seo.com.
Are these real referrals? No, they are simply a crude way of spamming a website's analytics, whether you use Google Analytics or any other service/program. The spammer(s) behind this are faking the referral domain, probably with the aim of getting website owners to see the spammy domain in their analytics/visitor logs and clicking through to said domain, in the hope of artificially boosting their own visitor numbers.
As these "visitors" typically only hit the home page and then disappear, it has the effect of looking like our websites were experiencing a very high bounce rate.
How did we fix this?
Using Google Analytics, we created filters to filter out referrals from these domains in our analytics reports. Here's how:
In 'Admin' and under the relevant ACCOUNT >> PROPERTY >> VIEW (Web Site Data)
Select 'Filters', click on the red '+ ADD FILTER' button
Select 'Create new Filter' and give it an appropriate name
Under 'Filter Type' select 'Custom'
Select 'Exclude' and from the 'Filter Field' dropdown, select 'Referral'
In the text box under 'Filter Pattern' enter the offending domain i.e. semalt.com
Hit 'Save' and that's it, from this point onwards your Web Site Data Views will now filter out any referral domain which matches (in part or whole) the offending spammy referral domain.
Repeat for all the referral domains you wish to ignore.
After we created the filters described above, we began to see our bounce rates return to a more normal level.