Internet usage on mobile phones and tablets is increasing every day and there are now more smartphones being sold in the UK than traditional PCs, with sales of tablet computers quickly catching and expected to overtake PC and laptop sales in the near future. More than a third of people browsing the web now do so on a smartphone, with many of these using only their mobile phone and more than half of internet searches using a smartphone are people searching for local services and companies.
Mobile Friendly
To really make the most of the way people now access the internet, your website needs to be built from the start with the users of smartphones and tablets such as the iPhone, iPad, Android phones & tablets, BlackBerry devices, Windows smartphones, the Kindle and other mobile devices in mind as well as the more traditional desktop and laptop computers. This is why at uXL Web Design we build all our websites with mobile optimised responsive website design built in right from the start.
What is Responsive Web Design?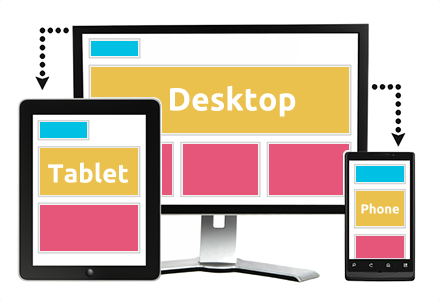 Responsive web design is the method of designing websites which are optimised to give the users the ideal viewing experience across a wide range of internet connected devices from laptops, notebooks, desktop computers and smart TVs to handheld devices such as mobile phones, tablets and games consoles without forcing the viewer to resize or scroll horizontally in order view the website's content.
Quite simply, a responsive website makes the viewing experience as natural as possible on as many devices as possible. If your current website is not responsive you should be asking your designer why it has not been designed in such a way. Our own website here at uXL Web Design has been designed with responsiveness built in and we strongly believe this is the way the majority of websites should be created.
What about building a separate mobile version of our website? Well there are certainly instances where this could be argued to be the best way, for some ecommerce websites for instance this can have its advantages as well as disadvantages and we would be happy to discuss the merits of both when designing a new web presence for any business.
Would you like to know more? The time is right for your new website to 'go responsive' and if you have any questions please get in touch with us to see how we can help you make the most of your mobile-browsing website visitors.